About MadridFootballInternational.com
MadridFootballInternational.com is a site designed to help football fans to get access to information and match tickets in Madrid in an easy, and secure way.
Info about Real Madrid:
The 6th of March 1902 was the date Real Madrid CF was founded with Juan Padrós as president. In that year the first match between Real Madrid and FC Barcelona was played, with FC Barcelona winning 3-1, El Classico was born. Real Madrid quickly became a very important club in Spain and made its mark in European football. Real Madrid is one of the biggest clubs in the world and has had many famous players wear the white jersey.Legends like; Paul Breitner, Butragueño, Beckham, Di Stéfano, Figo, Hugo Sánchez, Michael Laudrup, Puskas, Suker and Zidane! Real Madrid have won The Spanish Championship more than 30 times, The Spanish Cup 17 times, The Champions League 9 times and The UEFA Cup twice. This heritage and the way Real Madrid always play football plus the atmosphere at the Bernabéu, makes it an experience to remember.
Info about Atletico Madrid:
In 1903 Atletico Madrid was founded a year after Real Madrid. Even though Atletico Madrid is, regarded as the "small" Madrid football club this is not entirely true, as Atletico Madrid has its own spectacular history Atletico Madrid has won The Spanish Championship 9 times, last time in 1966, the same year they won their 5th Spanish Cup title. On top of this Atletico Madrid has also won 2 European titles. So Atletico Madrid is not just a big club in Spain, but in Europe as well, and it is always an experience to see them play at their splendid stadium, Vicente Calderon.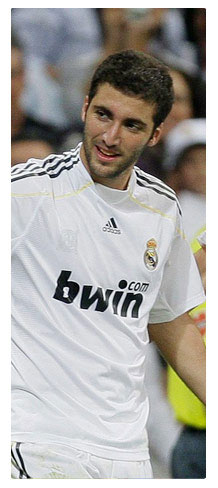 The season is over. Tickets for next season will be on sale in June–. Please check the website for details.